Thursday the 10th of July at 2.30 p.m.
[For Brits and other members of the Ex-pat underground]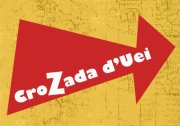 Once upon a time Occitania… Once and future Occitania…
Did you say Occitania, Occitan civilization?
… Ever heard of the troubadours, William of Poitiers (who had a portrait of the Countess of Châtelleraut, his lady, painted on his shield, and got told off by an Archbishop…), Bernard de Ventadour (who composed and sang a love-song for a Queen in London…), Arnaud Daniel (featured in Purgatory speaking langue d'oc in Dante's blockbuster Divine Comedy…), Peire d'Alvernh (who 'gently' mocked all his troubadour contemporaries at a great assembly called at Verfeil in the Pyrenees by Henry II of England, and then went on to mock himself…), Raimbaut d'Aurenga (Orange, less right-wing at that time… who pretended publicly he was impotent so as to reassure his lovers' husbands), so-called Courtly (not Courtney..!) Love, Richard Cœur de Lion (Lion-Heart, aka Richard Harris in Robin and Marion…), Eleanor of Aquitaine (Alienor in langue d'oc, alias Audrey, no Katherine Hepburn, this time, ageing Queen to Peter O'Toole's Henry II in A Lion in Winter…), Frédéric Mistral (absolutely no film, but a handful of great nineteenth century poems, an opera or two, plus a Nobel for Literature in 1901), Provence, Provencal culture (not just sky-high real estate and omega 3 Mediterranean cooking), Nostradamus…
All that rings a bell or two, but perhaps you may be wondering how the dots connect, and where and what this thing called Occitania really is (particularly as you won't be able to find it on any of the official maps).
The answer, of course, is that you're going to have to learn to draw and redraw your own personal mind-maps.
The picture only starts slowly coming together when you get a minimum savvy, and on the fabulous trail of the troubadour's gai saber (gay knowledge) imparted from the Middle Ages on and almost clandestinely down the ages, until what is still today, notably, over the last thirty years or so – via a really remarkable (and still largely unknown) renewed wave of gifted popular singers, refined poets, powerful thinkers and writers– theonce and future Occitan civilization, formerly dubbed Romanesque (Simone Weil), Limousine (nothing to do with cars, the first big crop of troubadours were from the Limousin or thereabouts..), Gascon (16th, 17th centuries, baroque), Languedocian or (in the 19th century literary 'renaissance', which is where Mistral takes his mighty bow…) Provençal…
A doughty task, you might think, and that's certainly the case (though a pleasurable, illuminating one of intricate delight it is), but luckily for me and you, a lot of the hard labour has already been done for us in advance by several generations of antiquaries, researchers, dons, historians, archivists, philologists, ethnographers, photographers, monographers, writers, poets, essayists, novelists, even film-makers, cartoonists and so on…
The only idea that you really need to latch onto from the start is that Occitania, Occitan Civilization, is not limited to being a strictly regional sub-phenomenon of the brilliant 'French cultural Exception' you may hear about so often, and wonder about from time to time. Occitania reaches beyond, is transversal to, in a way transcends French culture and the History of France. It was before and it may be after. It is also our own common European – and particularly Anglo-British, and even American – heritage. What is more, there are no embarrassing Joan of Arc, Battle of Waterloo, Mers-el-Kebir, Dunkerque etc. between it and us perpetually to be explained and complained about…rather the contrary.
Between Britain and France, Occitania, a shared homeland of the freedom of the soul, heart and mind…
The talk to be given on Thursday the10th of July at 2.30 p.m., through a series of documents, texts, anecdotes, historical accounts, forgotten maps, facts and events, modestly aims to provide the English-speaking public with some precise keys of entry and/or maps of access to encourage the audience to learn to become at least as savvy and knowledgeable as the nationals themselves concerning the story and the contemporary realities of Occitania. This is no more than justice as the mingled roots and affects between England and Occitan Civilization have historically been long and deep, and no doubt only need to be reactivated for the love affair to start all over again. Talk to be held by Patrick Hutchinson PhD, researcher on Medieval Troubadour poetics, poet, playwright and writer, Lecturer at Sciences Po, Aix-en-Provence, living in Occitania since 1964.
Entry: 5€